Whitehaven Carnival 2012
the Floats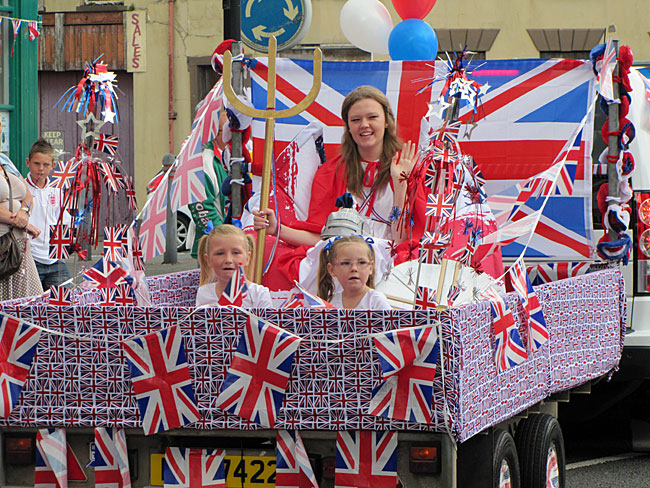 The first float in the carnival belonged to Britannia who was portrayed this year by Hannah Armitage. Britannia seems to be going up in the world if you look back to previous carnivals where she walked or rode on horseback. This time her float, festooned with union flags, was pulled by a white land rover and she sat on a throne accompanied by two attendants.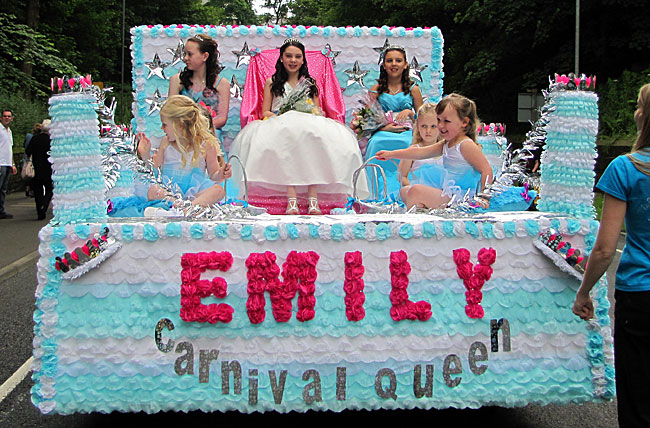 Whitehaven Carnival Queen 2012 was Emily Nann who had wonderful float decorated in the traditional way with blue and white paper. Queen Emily sat on a pink throne in a white dress with attendants Sophie Armitage and Destiny Fitzwilliam dressed in blue.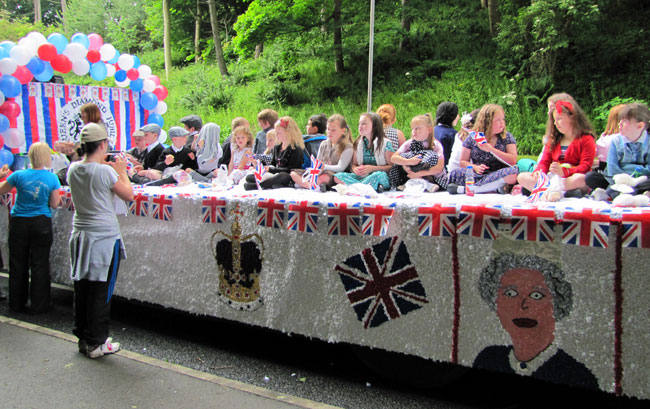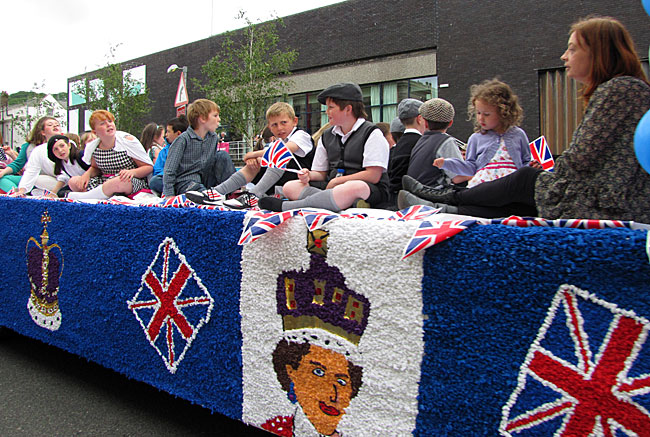 Moresby School were celebrating the Queen's Diamond Jubilee with their float which was decorated with paper mosaics depicting the Queen. On one side the Queen was portrayed as she is now and on the other as she was at her coronation.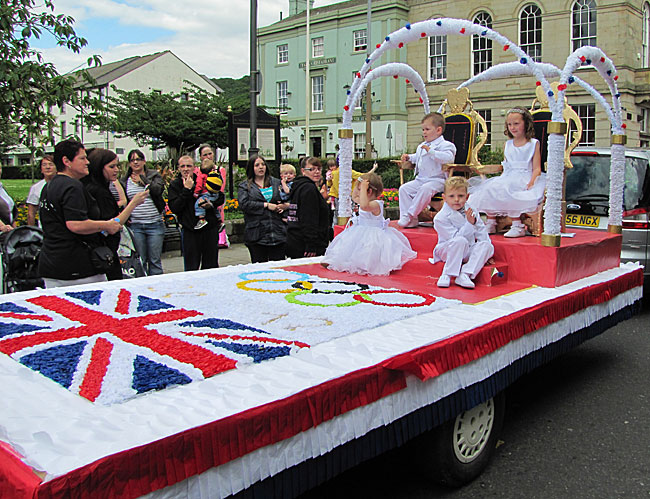 Another float with a patriotic feel was this one celebrating the London 2012 Olympic games with a paper mosaic of the union flag and the Olympic rings.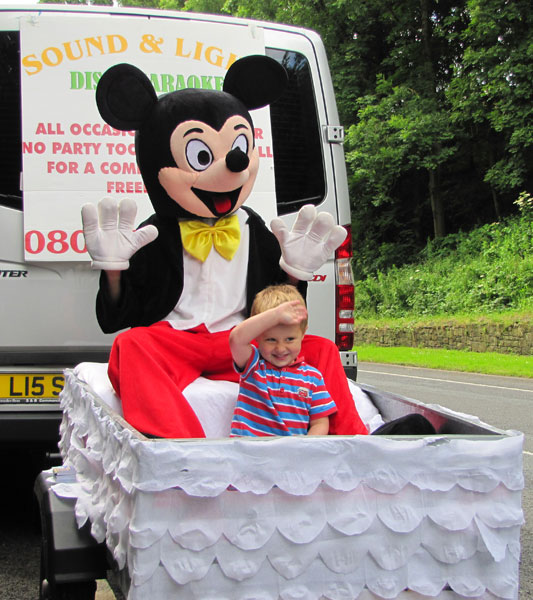 The smallest float at the carnival was this small trailer pulled behind a car which featured Mickey Mouse.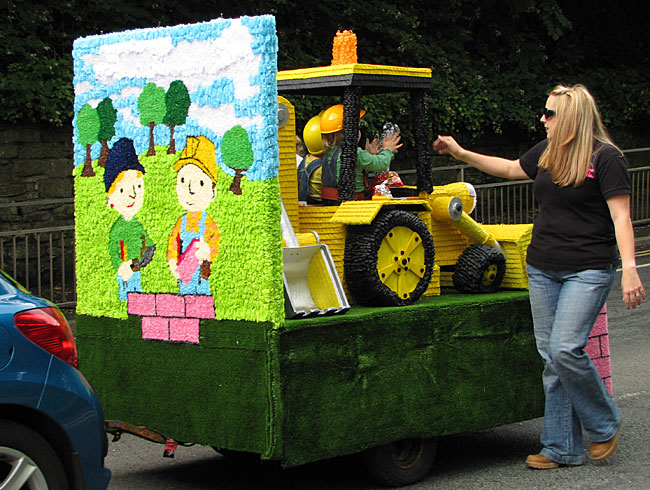 Not much bigger was this excellent float of Bob the Builder. Amazing paper decoration covered every side and the model of Scoop the digger was superb. This shows how even a single family could enter the carnival as a fantastic experience for the kids and also an advert for a business.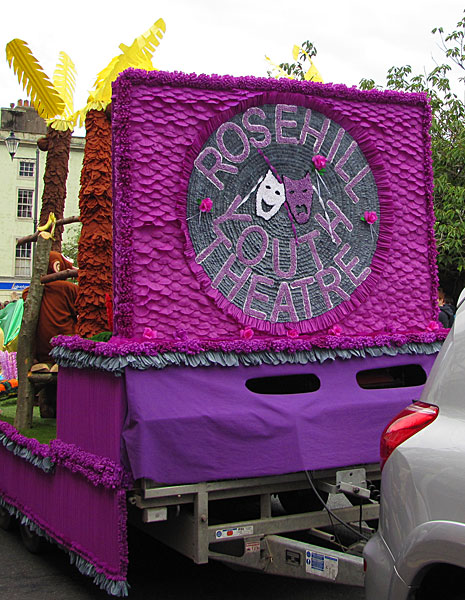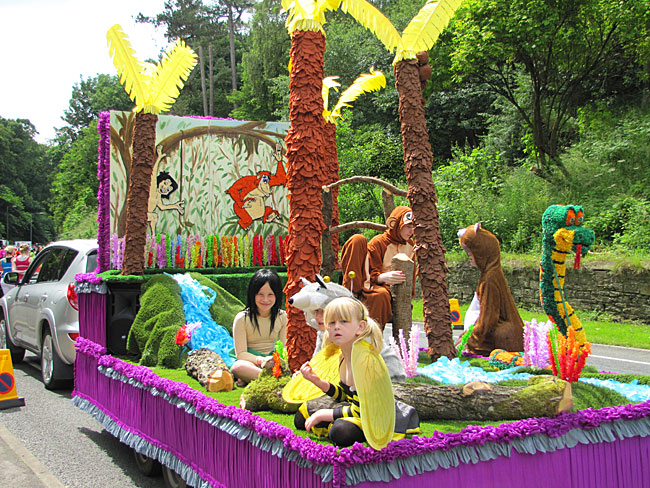 Not surprisingly the float of Rosehill Youth Theatre was very theatrical. On one side was the deep velvet purple curtains with the company logo all depicted in paper and beyond that was fantastic scenery of Rudyard Kipling's Jungle Book with palm trees and a river and the performers taking the part of the animals in the story.
©WAWL 2012