SHIPS ENTERTAINERS AIRCRAFT MUSIC
NIGHT
Saturday evening also had a full line up of entertainment. Music was provided on the CFM stage and the funfair between Strand St. and the harbour looked great all lit up at night.

A period re-enactment took place on the inner harbour where the Duke of Brunswick was rowed into the harbour to a gun salute, inspected the artillery men and the rowed out again. This was set in Napoleonic times when the German duke, after fighting his way out of Germany came to Britain which he toured, recruiting men. He never actually came to Whitehaven but it was a good excuse to fire some field guns.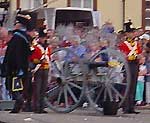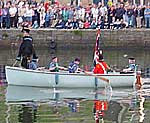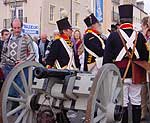 After the re-enactment the sun set behind the tall ships Phoenix and Earl of Pembroke moored against the Sugar Tongue in the inner harbour.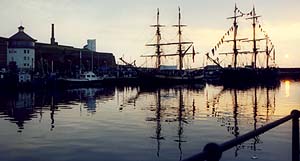 Music kept the crowd entertained until the fireworks including a brilliant set by the local electro/folk group Altar Native who used sampled rhythmic backing with strong melodic performances on fiddle, bass and acoustic guitar played through various effect units to create a unique style and sound. This was added to with a spontaneous routine by an energetic dancer for whom the beat was impossible to resist.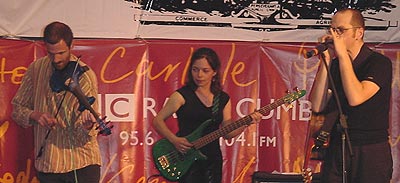 The grand finale to the night was a truly spectacular firework display. The harbour was lit including the fluorescent wave sculpture and the Crow's nest changing colour with the wind.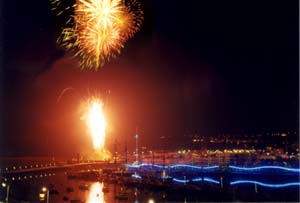 To this was added hundreds of airbursts of every shade of firework, all the explosions being mirrored in the still waters of the harbour.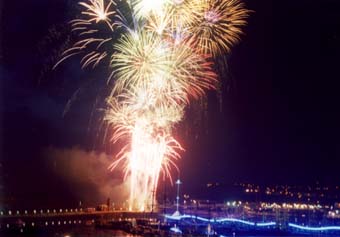 To download some MP3 tracks from Altar Native and find out more about the band visit :
Whitehaven Maritime Festival 2001