Cars 2001 Vintage Rally 1999 Vintage Rally 2000
Motor Bikes 2001
Whitehaven harbour front provided a splendid location for showing off some classic and vintage motorcycles at this years vintage rally. This impressive red Moto Guzzi looked all the better for the surroundings, and with more space available, the bikes were a little more spread out allowing them to be studied by enthusiasts from all angles.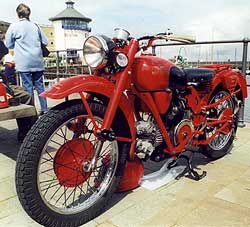 It would appear enthusiasm starts at an early age as this young lad examines a Douglas with a knowledgeable eye. Douglas was a Bristol firm famous for it's flat twin bikes that were produced for fifty years and won the TT in the first half of the 20th century.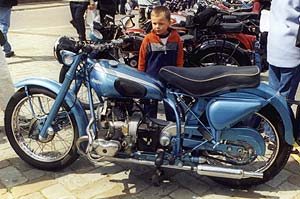 Another classic British bike on show was this Greeves. The Greeves name had an unusual pedigree for a bike builder as Bert Greeves started off building invalid carriages after the war from which the rubber torsion suspension was adapted for bikes. Another unique feature was a frame conisiting of a single aluminium beam which possibly reduced weight affording the marque much success in racing, particularly motocross in the early 1960's. The bikes often used Villiers engines as on this Sports twin.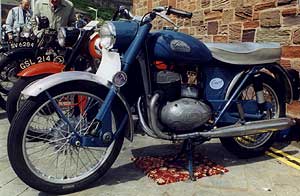 Velocette despite its French sounding name was a typical British manufacturer originally producing bicycles at the end of the 1800's in Birmingham, although the family was originally from Germany. This Velocette MAC built in 1938 is a 350cc model. Velocette had in 1930 taken the first 8 places in the Manx Grand Prix and TT success with only slightly modified production machines made the name synonomous with speed.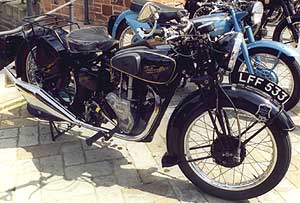 An exception to the vintage british bikes on display was this imaculate Czech. based speedway bike by Jawa. This had a 500cc single cyclinder four stroke engine and of course no brakes!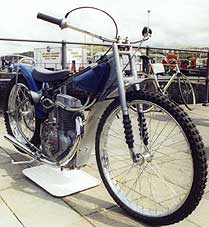 Possibly the rarest machine was this Rover - a name normally associated with cars.This 250cc model was built in 1924.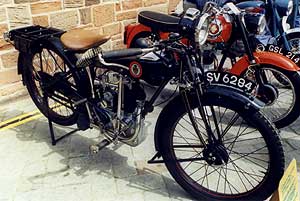 No motor bike collection would be complete without a Triumph and this fine metalic blue example was a Triumph T21 350cc built in 1961.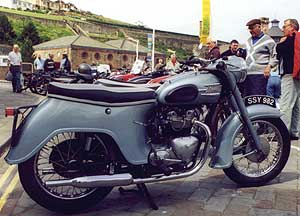 West Cumbria Vintage Rally
External Links:
For more about the Jawa visit
http://www.argonet.co.uk/users/marcman/ja2.html
for Triumph Owners Motor Cycle Club
http://www.tomcc.org/
Triumph Site
http://www.triumph.co.uk/
More on the Velocette
http://www.velocette.org/
For Moto Guzzi
http://www.guzzi.org.uk/
British Motorcyclists Federation
http://www.bmf.co.uk/