On paying a fee, which went to the National Trust Neptune Project, people were allowed aboard this superb ship. Here guides explained life on-board such a ship when it would originally have had a crew of 250. This would have included at least a couple of dozen to sail it, six men for each of the 22 cannon and a company of marines, who were partly there to guard the officers from mutanous crews.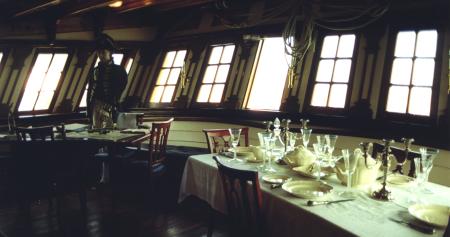 Whilst ordinary sailors and landsmen were allotted just enough space to hang a hammock, the captain had a suite of rooms including this spacious cabin and its tables laid out with the finest cutlery and glass. Apparently in conflict this was all packed into a small boat and towed behind the ship - the captains having a pact with their French counterparts not to destroy each others personal belongings.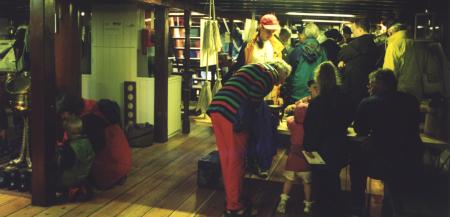 Such civility was in marked contrast to the life of the fighters - a display below deck showed various projectiles fired from cannon, including grape-shot which was designed to fragment on impact and chain shot designed to tear apart sails and no-doubt any flesh that got in the way. This deck would have been nearly half as high originally - there having been an extra deck on the original. Fortunately the extra room in the replica allowed for a display of the ships TV career and many displays by the National Trust showing the importance of the coast and their schemes to protect it.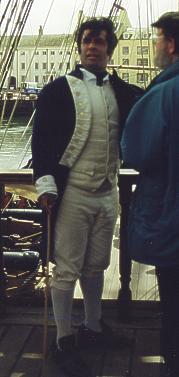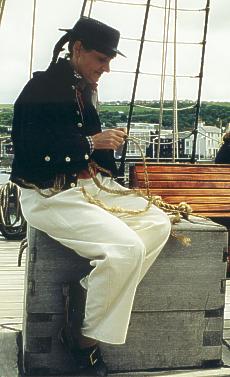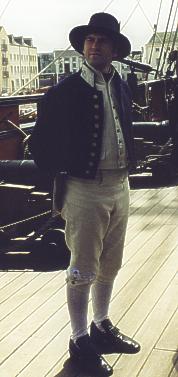 A cast of characters in period costume helped recreate the atmosphere by splendid interaction with the crowds of people that came aboard.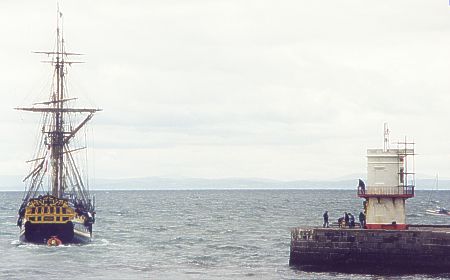 As the ship had arrived at night, thousands of people gathered to see it navigate the new lock gates and sail out of harbour. Just enough swell on the sea gave an idea of how it cuts through the waves. This evoked a time when dozens of ships sailed past St.Bees head each week from the port of Whitehaven.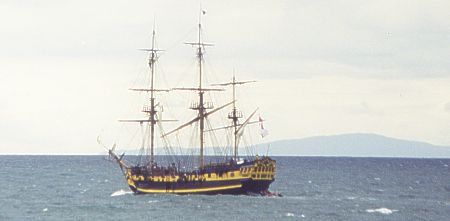 External Links:
National Trust Coastal Show including a virtual tour of Grand Turk
Building Grand Turk more information on Mike Turk's project
Webcam Site with more pictures