Tall Ship Endeavour At Whitehaven
Arrival On Board Events Departure
The chance to go aboard Endeavour replica was taken by thousands of visitors keen to have the opportunity to stand at the helm of Cook's famous ship that had travelled the world.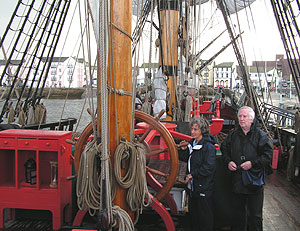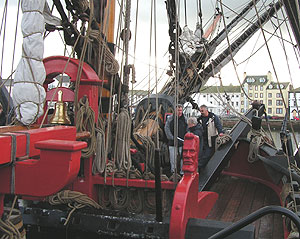 Towards the bow of Endeavour on the foredeck is a huge windlass stretching the width of the deck the frame of which was carved with these sailors heads. This was used to haul in the two huge anchors weighing nearly a ton each. These were faithful facsimiles being cast from the original which was lost during a perilous journey on the Great Barrier Reef.

On descending a ladder to the mess deck the huge stove could be seen on its stone base designed to reduce the high risk of fire. The food for over ninety people on board was prepared, and cooked here by a one handed cook from Scotland. And forward of this were the cabins/workshops of the sailmaker, carpenter and boatswain.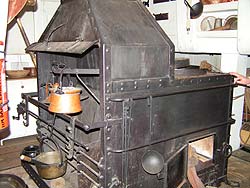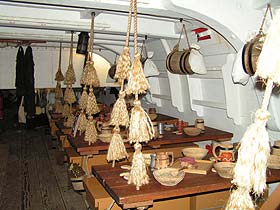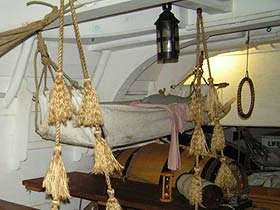 A single communal room took up most of this deck were all the sailors had to live, sleep and eat. The men would be crowded around the small tables to eat but the hammocks for sleeping were strung above these only 14 inches apart.

Placed strategically between this area and the officer's cabins was an area for the midshipmen and the marines. This was only a few feet high preventing any of the men from standing which would have become uncomfortable on such a long voyage.

One of the midshipmen was the Jonathon Monkhouse who was the 18 year old brother of William Monkhouse the surgeon, from Penrith in Cumbria.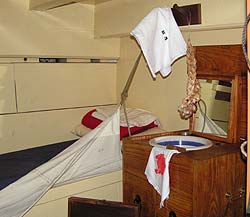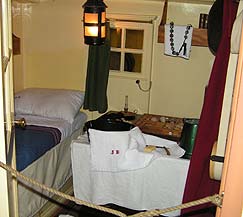 Local man William Monkhouse a member of the Guild of Barber Surgeons had the cabin shown above which although cramped by today's standards was much better than the space allocated to his younger brother. The other cabin shown was occupied by Joseph Banks the famous naturalist who identified so many new species on this journey to the new world. It is quite likely that his cabin would have been crammed full not only of his equipment but with specimens of this flora and fauna as he drew and catalogued them.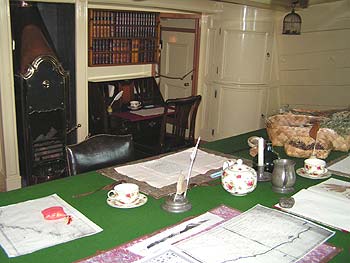 It seems as though Cook's cabin normally the spacious, light and airy was also taken over by the scientists. The large mapping table was strewn with artefacts that were studied and drawn. Considering the cramped conditions it should be remembered that this was a voyage of discovery similar to today's space exploration were astronauts suffer similar deprivation. It was interesting to note therefore that in the sternpost was a small wooden nail carried into space by NASA's space shuttle Endeavour.
Endeavour at Whitehaven