Visiting Ships
Festival Ships Food JetSki Airshow Red Arrows Music Night
T.S. John Jerwood
Whitehaven Harbour 3rd June 2010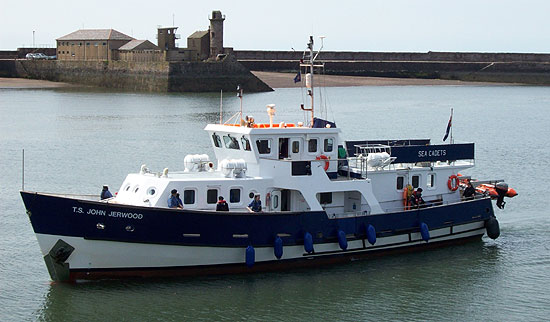 The sea cadets training ship John Jerwood is seen here arriving from Douglas on the Isle of Man with the Whitehaven sea cadets building the T.S. Bee in the background on the Old New Quay. The t.s. John Jerwood is a 23.5m motor vessel named after an international pearl dealer who set up the Jerwood foundation to provide sponsorship in the Arts and Education sector. The Jerwood Foundation provided over £1m towards the purchase of this vessel to allow sea cadets vital experience at sea in a powered vessel. T.S. John Jerwood was built by Blondecell Limited of Southampton who fitted its twin 215 hp Perkins Sabre turbo diesel engines and added the cabins to a hull moulded in Sri Lanka. She was launched in April 2002.
S.V. Ruth
Whitehaven Harbour 11th June 2010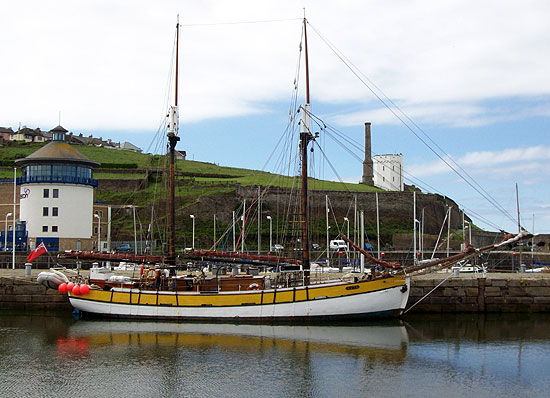 Into Whitehaven Harbour long before the festival was sailing vessel Ruth. This twin masted Baltic trader is gaff-rigged on both masts. Ruth was built in Sweden in 1914 and is constructed of pitch pine on an oak frame. Originally her cargo was pottery for Höganäs Keramik but she has operated as a private sailing schooner since the 1960's.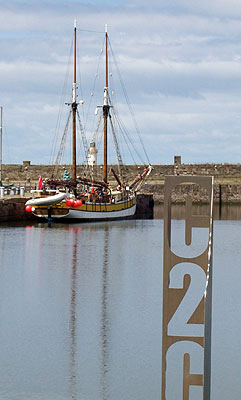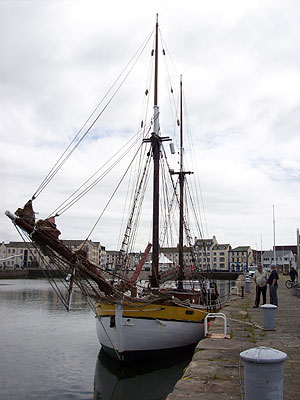 The Ruth is currently operated by First Rate sail of Penzance who offer sailing holidays and charters.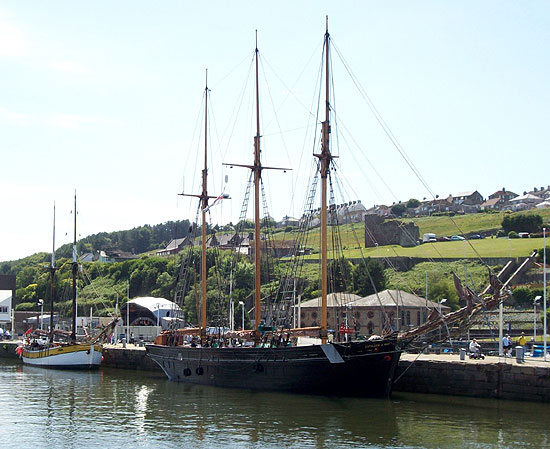 The other tall ship at the festival this time was the Kathleen and May which had also appeared at last year's festival. The Kathleen and May, the last remaining wooden hull three masted topsail schooner, was built 110 years ago at Connah's Quay in North wales. Restored 10 years ago and owned by Steve Clarke O.B.E. she has a length of 133 feet, a beam of 23 feet and the height of the top mast is 78 feet.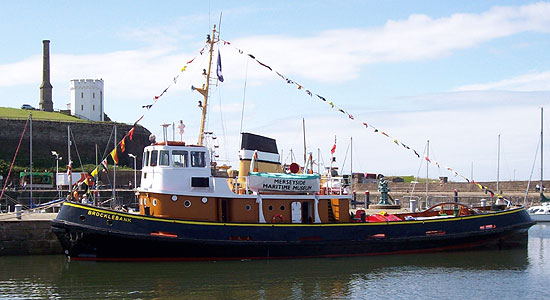 The Merseyside Maritime Museum brought the Brocklebank tug to Whitehaven. This was very appropriate as the Brocklebanks had a shipyard in Whitehaven before moving to Liverpool where the company eventually became the world famous Cunard line whose liners this tug once handled. Guided tours by enthusiastic volunteers allowed access to the engine room which occupies most of the boat and the very knowledgeable guide explained its workings.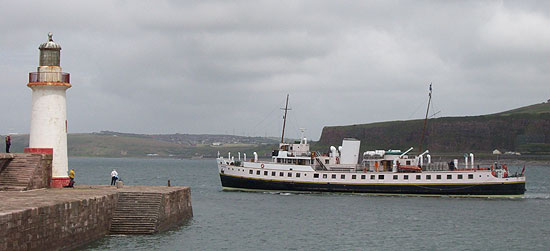 Also over the weekend there were trips to the Isle of Man in the Balmoral which has visited many times and is seen here leaving on the Monday.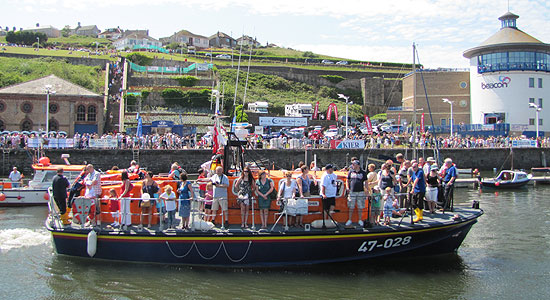 Tours around the harbour and coast were also available in this lifeboat which allowed for a unique view of the festival.
see also in 2010 - The World Cruise Liner S.T.S. Lord Nelson
© WAWL 2010