West Cumbria Vintage Rally 2008
Vintage Cars
Rally Tractors Vintage Modern Bikes Commercial
One of the car clubs at the show was the Morgan Sports Car Club and this is a Plus 4 DHC built in 1953. Showing in great condition its age isn't apparent when compared to many some of the newer Morgans which have maintained a similar body shape. The unusual thing about this one is that it was originally built with left-hand drive for the American market and was converted back to a 'proper' steering configuration in the late 1980's when it was returned home to the UK.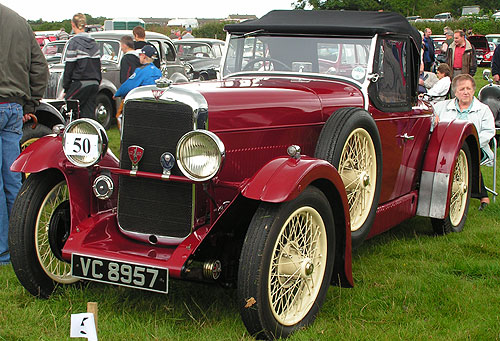 This is the same 1931 Alvis 12/60 Beetleback shown on my 2004 vintage pages but this time it has the bonnet closed and the roof up thanks to the threat of rain at this year's show. It took 5 years to restore this 2 seater tourer. It has a 4 cylinder 1645cc engine that could do up to 80 mph. Alvis cars built from 1920 to 1967 were always expensive and exclusive so it is no surprise that there were only about 100 of this model made.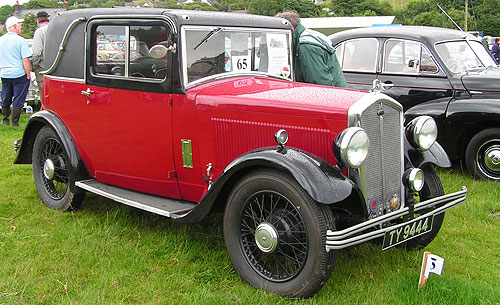 This Wolseley Hornet was built in 1932 and took 4 years to rebuild. The Birmingham based Wolseley company had been building cars since 1896 but had been taken over by Morris by the time this car was launched in 1930. The engine was a six cylinder 1271cc with overhead camshaft delivering 12 H.p. making it quite sporty for its time.

Another car club at the show was the Singer owners club which formed in 1951. First produced in 1905 Singers were known for their quality which accounts for the superb state of these three models seen at the show.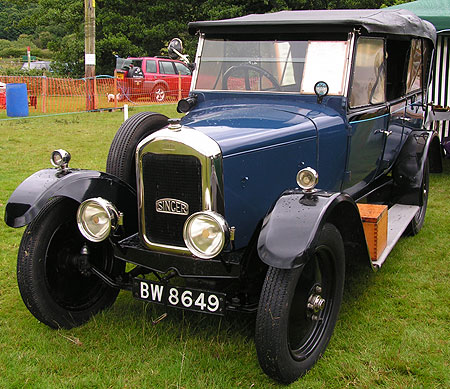 One of the oldest cars at the show was this Singer 10/26 H.p. de luxe built in 1925. It had a three speed gear box and only brakes on the rear wheels but could reach a speed of 52 m.p.h. There is an interesting story behind its remarkable state of preservation. Apparently the wool merchant who bought it covered it in bails of wool and left it in a warehouse for nearly 40 years after it had ran over and killed the family dog. It was then bought by a car salesman to be exhibited in his showroom and so never got much mileage on the clock and spent most of its existence indoors.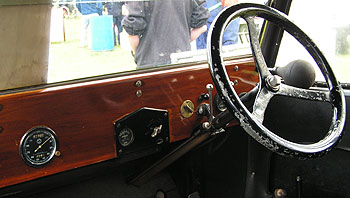 What? No Sat. Nav. or CD player! - however did they manage? The Dashboard of the Singer was a little Spartan and I doubt that that horn was very loud.
Return to Western Lakeland Events
© WAWL 2008