FESTIVAL SHIPS NIGHT HARBOUR ENTERTAINMENT
The Red Arrows display team provided something new for this year's show with an amazing display of precision flying, producing stunning high-speed aerobatics over Whitehaven harbour.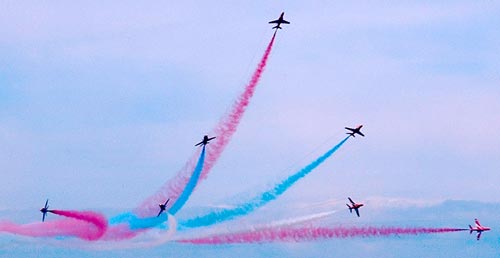 After flying straight for the thousands of people watching from the harbour the Arrows split into a red white and blue fan.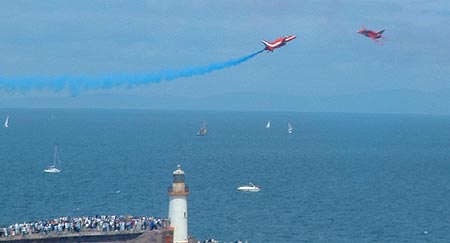 This is one not to try at home - even if you do have the right equipment. Two of the Red Arrows fly on a death defying high speed collision course twisting away at the very last second above Whitehaven harbour.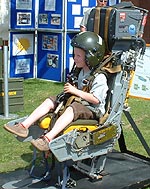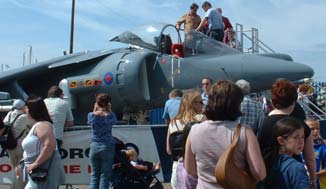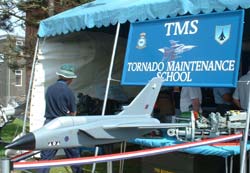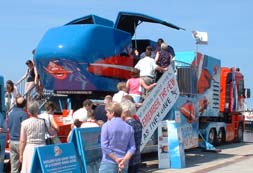 To support the display in the air the RAF provided a host of attractions on the harbourside. This inlcuded a harrier jump jet which people could sit in and a simulator which gave some idea of what the Red Arrows' pilots experience in the air.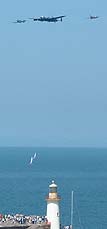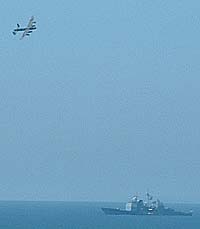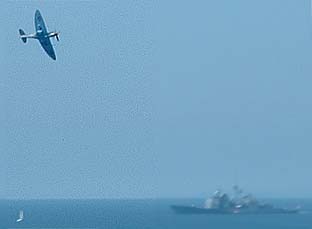 Going back a little further in aviation history there was a WWII flypast by a Lancaster bomber flanked by a Spitfire and a Hurricane. This was interestingly juxtoposed with the modern American missile cruiser - USS Leyte Gulf - out in the bay. Later in the afternoon another chance to see a vintage aircraft was provided by a Fairey Swordfish which made several low level passes over the outer harbour.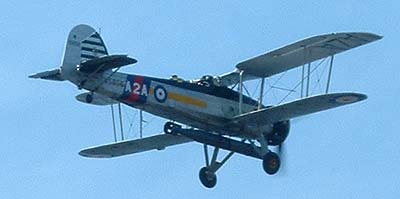 Another display of precision flying was provided by a Seaking helicopter that simulated a rescue in the harbour and then lower a man on board the RNLI lifeboat from Workington. Unfortunately, a repeat performance on the Sunday was cancelled when the rescue team was called away on genuine rescue elsewhere.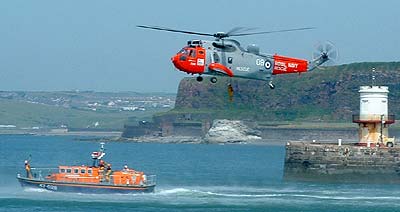 FESTIVAL SHIPS NIGHT MUSIC ENTERTAINMENT
Whitehaven Maritime Festival 2003