FESTIVAL NIGHT AIRCRAFT SHIPS ENTERTAINMENT
An exciting new attraction to Whitehaven for this year's festival was the UK Jetski Display Team. They performed to a large audience several times throughout the festival in both the outer and inner harbour.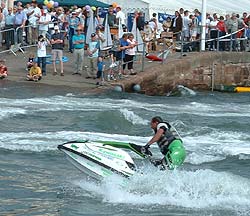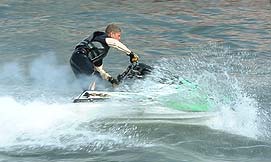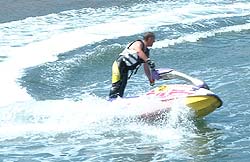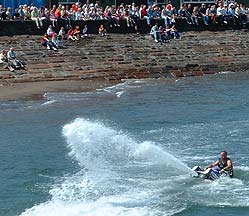 The team threw the jetski around at high speed executing some amazing tricks. These included diving the skis underwater, somersaults in the air and riding backwards creating cascades with the jets.



With the visit by the USS Leyte Gulf, Lady of Man, and Steamship Balmoral, street entertainers, a marina full of yachts dressed with buntings, pirate re-enactment, a large fun-fair, perfect weather and a great party atmosphere - it is safe to say the festival was an absolute success.
FESTIVAL NIGHT AIRCRAFT SHIPS ENTERTAINMENT
Whitehaven Maritime Festival 2003