FESTIVAL NIGHT AIRCRAFT HARBOUR ENTERTAINMENT
The American navy had a big presence at this years festival. Following up the pardon of John Paul Jones at the 1999 festival modern missile cruiser USS Leyte Gulf moored off Whitehaven. Trips to go and see it on the Balmoral were sold out. The servicemen from the ship did their country proud by not only visiting the festival and local pubs but by going into local schools and hospitals.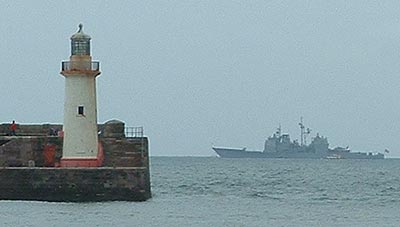 On the Friday before the festival Lady of Man took people on a trip from Whitehaven to the Isle of Man mooring against the North pier as it was too large for the lock gates.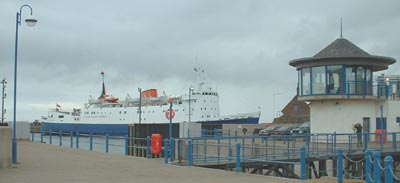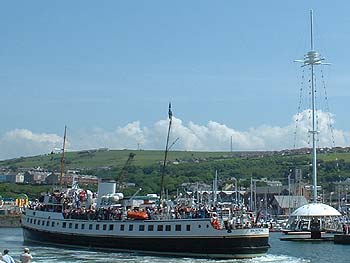 The Balmoral took visitors out to see the USS Leyte Gulf and along the coast past St. Bees. It spent the night moored to the Sugar Tongue.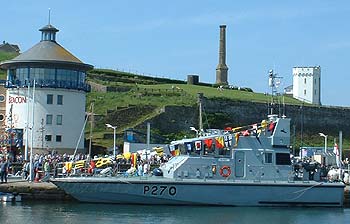 HMS Biter a fast modern patrol boat provided the Royal Navy's presence at the show. This is partly a training ship being attached to Manchester University.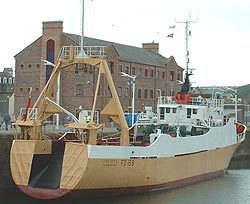 The Jacinta was probably the biggest trawler to visit Whitehaven - several times the size of the usual fishing boats in the harbour. Its doors were open to allow visitors to explore at will the inside, so they could see how the crew lived.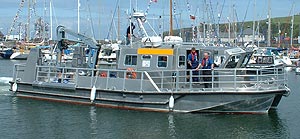 BNFL's dive boat, Eagle is a rather unusual boat which again welcomed visitors aboard to see some of the sophistacated equipment.
FESTIVAL NIGHT AIRCRAFT HARBOUR ENTERTAINMENT
Whitehaven Maritime Festival 2003