West Cumbria Vintage Rally 2009
Rally Tractors Vintage Modern Bikes Commercial
Bikes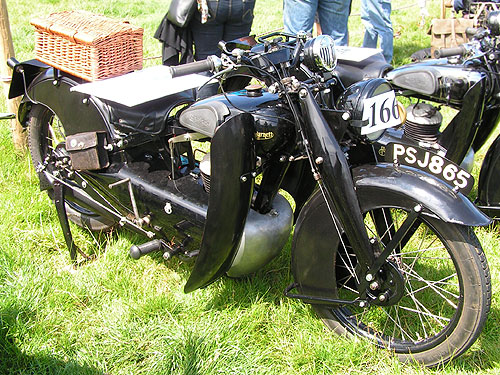 There is always a good span in the ages of bikes at Distington Vintage Rally. This Francis Barnett Cruiser 32 was built between the world wars in 1933. It is a 250cc model which the owner is gradually restoring by replacing many of the non-standard items which have accumulated throughout its long life. It was a rather futuristic design for the time with much of the mechanical workings enclosed and leg plates anticipating the development of the fairing seen on most modern bikes. The 32 was the earliest of the 3 cruisers built by Francis Barnett until 1940 and featured a Villier's Mark 14 engine and a hand change 4 speed gearbox.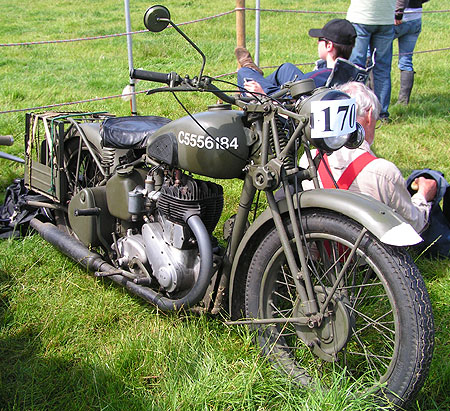 Actually built during World War II and used by the War Department is this 500cc BSA M20. This weapon of war was built by the Birmingham Small Arms company (BSA) in huge numbers, despite the bombing of their factory at Small Heath, and supplied all the forces, although the most for army despatch riders. Far from perfect - heavy, with a slipping clutch, failure to start when hot and a risk of catching fire due to backfiring through the carburettor - the model lasted for a couple of decades after the war due to the huge number of spare parts and was even used by the AA with a sidecar.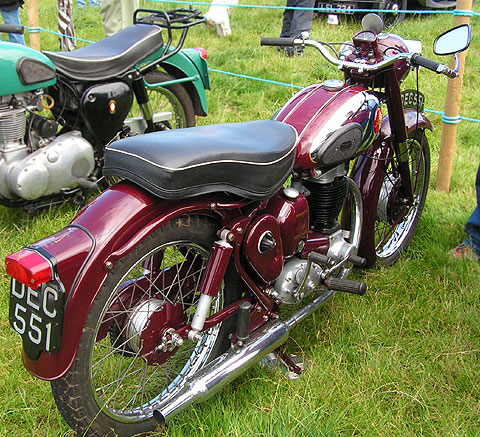 From being a group of gunmakers in 1850 BSA started producing motorcycles in 1910 becoming the largest manufacturer of motorbikes in the world and they always have a good showing at the vintage rally. This locally owned 250cc BSA C12 looked splendid in this burgundy colour. Built in 1956 the 12hp 4-stroke engine originally gave this a top speed of 70 m.p.h.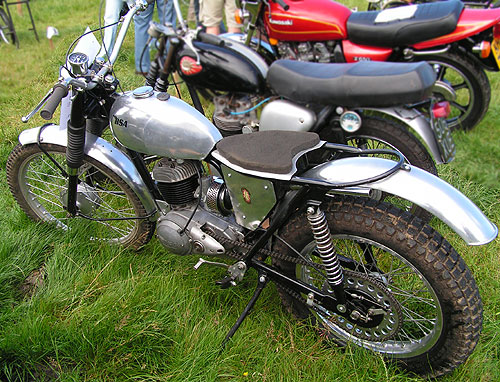 Not bothering with a coat of paint and looking great because of it was this BSA Bantam. The popular Bantam is always present at the show in various disguises but this stripped down model is a 175cc Trials bike made in 1961.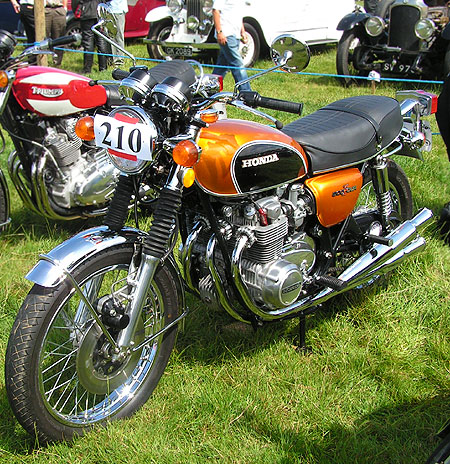 It's amazing to think that some of the bikes we think of as coming from the modern Japanese dominated era of motorcycling are now quite an age and becoming classics. This Honda CB500 is quickly approaching 40 years old being manufactured in 1971. Yet the complete and detailed restoration gives it the appearance of one made yesterday.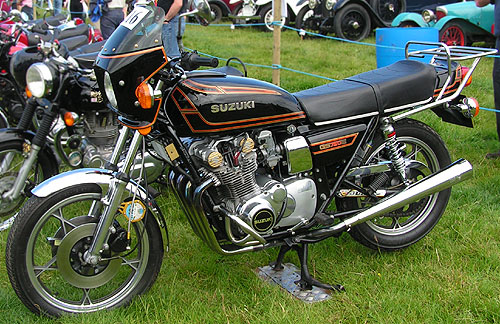 Even this Suzuki GS750EN was built in 1979 making it now 30 years old. Previously manufacturing 2-stroke bikes the GS series was Suzuki's first 4 stroke to compete with Honda and Kawasaki and they seemed to get it right first time. The DOHC engine produced power effortlessly, making it reliable, and giving speeds up to 130 m.p.h. with a bike that was more controllable than its Japanese rivals.
Return to Western Lakeland Events