West Cumbria Vintage Rally 2009
Rally Tractors Vintage Modern Bikes Commercial
Classic and Modern Vehicles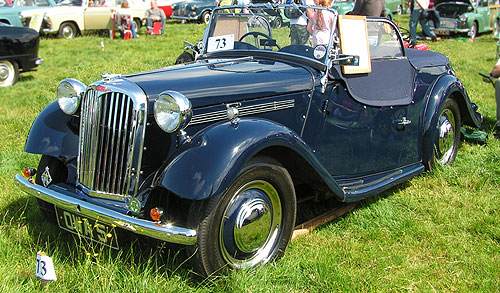 It must be something to do with the great weather we've been having on the West Coast of Cumbria as it seems to have brought out the in numbers the soft tops. The first of the convertibles here is a Singer Roadster 4AB which was lovingly rebuilt over a three year period restoring it to the wonderful state we see here. This model originally registered in 1951 had the 1074cc engine although there was a more powerful option available with 1497cc.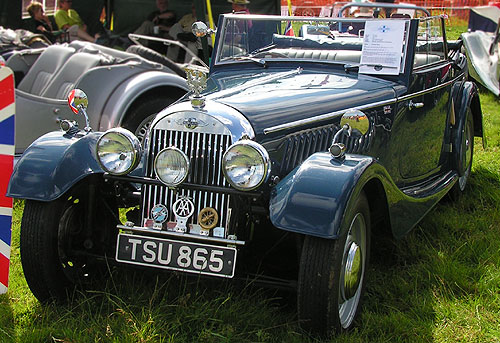 Morgan carried this design very much into the present date but this Morgan +4 coupe featured in the Morgan Owners Club enclosure was built in 1953. Like the Singer the body panels were hung on an ash frame, although in the Morgan these are steel as opposed to aluminium, and the whole thing bolted to a steel chassis. This particular one also has had an engine replacement swapping the original 2 litre Standard Vanguard for a 2 litre TR2 4-cylinder producing 90 bhp. It has also been converted back from left-hand drive to right hand, having originally been for the American market.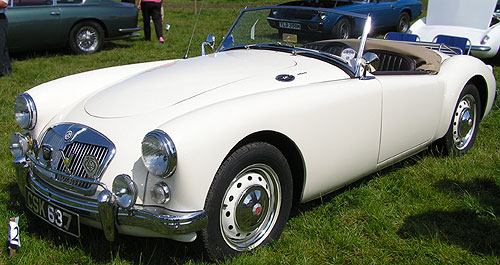 It's surprising really that there were so many open top cars made in this country, the home of precipitation - not surprising therefore is that this MGA Roadster spent much of its life in California before being imported back into the UK and being restored by the owner. This is a Mark 1 with a 1600cc engine.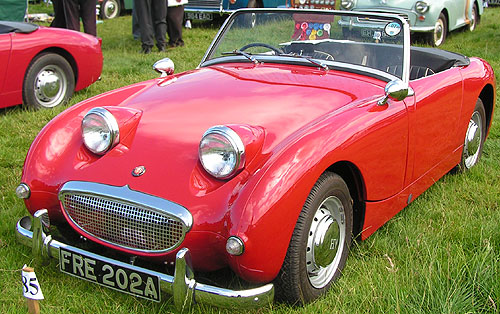 Surely the happiest car at the rally was this Austin Healey with headlights, badge and grill giving it a face that seems to be chuckling with delight. This resulted as it being known as the Frogeye or Bugeye depending on which side of the Atlantic you were. This one was originally made in 1959 but has just been rebuilt into a new bodyshell. The same owner had another at the show virtually identical. The 948cc engine means a relaxed drive rather than the speed machine its styling suggests, with a 0-60 time of about 20 secs.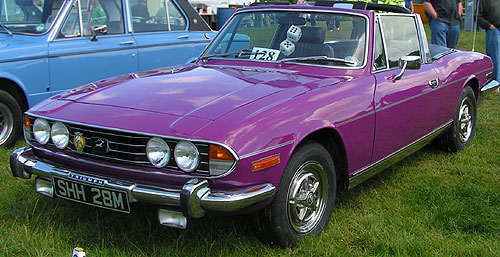 Certainly standing out from the crowd is this purple Triumph Stag Mk II from 1974. The colour complements the Italian styling of Michelotti in what was otherwise a British answer to the Mercedes SL.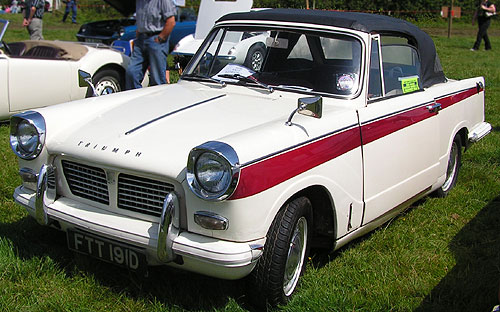 If you couldn't afford anything as smart as a Triumph Stag then on a summer's day you could have imagined you had a bit of that Riviera lifestyle with this Triumph Herald convertible. This model built in 1966 had a 1250cc engine.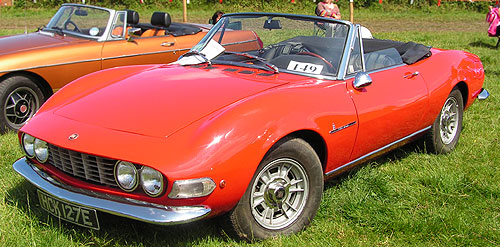 Likewise if you couldn't afford a Ferrari then this Fiat Dino Spider could also put in quite a performance as it was designed by the same Pininfarina designers. This 2 litre version was assembled by Fiat but the rarer 2.4l version was assembled by Ferrari.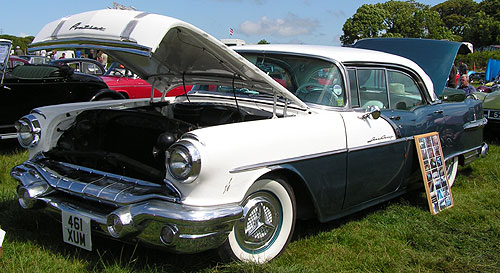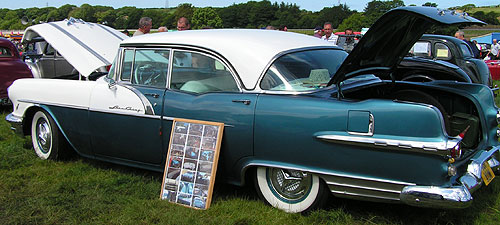 Rare for Cumbria, was this Pontiac Star Chief just popped in as it was passing and therefore was not in the catalogue. It's good that it did as it was one of the finest cars at the show. With its V8 engine this Star Chief was considered Pontiac's top of the range model when it was built in 1956. It was a development of the Chieftain Series 3 with extra length in the frame and added luxury for the top end of the market.
Return to Western Lakeland Events